The Unitemps team at University College London (UCL) gathered with clients and candidates on Monday 31st July 2023 to celebrate the successes of the branch throughout the last year at their annual awards ceremony.
The awards began with a speech from the University's Chief People Officer Donna Dalrymple, she spoke about the growth within the Unitemps branch and emphasised the branch's impressive internal and external figures from 2022-2023.
Hiring manager Thalia Anagnostopoulou then delivered a touching personal testimonial, sharing the obstacles she had previously faced as a Hiring manager and how Unitemps' services helped her overcome them. She spoke about the unity between Unitemps workers and the assignments they are on, a testament to the standard of placements of candidates from the Unitemps UCL team.
The awards then followed, a chance to congratulate candidates who have gone the extra mile over the past year, as well as members of the Unitemps team, to highlight their hard work and achievements. The categories ranged from Office Support of the Year to Student Ambassador of the Year. There were masses of nominations for each category, with nominations coming from staff, hiring managers and fellow candidates, showcasing the talent and enthusiasm of the candidates at Unitemps UCL.
Attendees then networked over light refreshments, getting to know each other and discussing future opportunities. We would like to thank all clients and candidates, past and present, who attended and contributed to another year of success at Unitemps University College London.
Congratulations to the winners, runner ups and nominees.
Office Support of the Year was won by Bessie Holloway Davies
Creative Candidate of the Year was won by Calum Medlock
Intern of the Year was won by Robbie Lush
Research Assistant of the Year was won by Bojidar Rangelov
Student Ambassador of the Year was won by Louis Miller​
Technical Support of the Year was won by Isa Tarmizi
Hiring Manager of the Year was won by Emilia Olsen
Department of the Year was won by the Development, Campaigns and Projects Team
To find out more about opening a Unitemps branch at your institution, get in touch with the team today.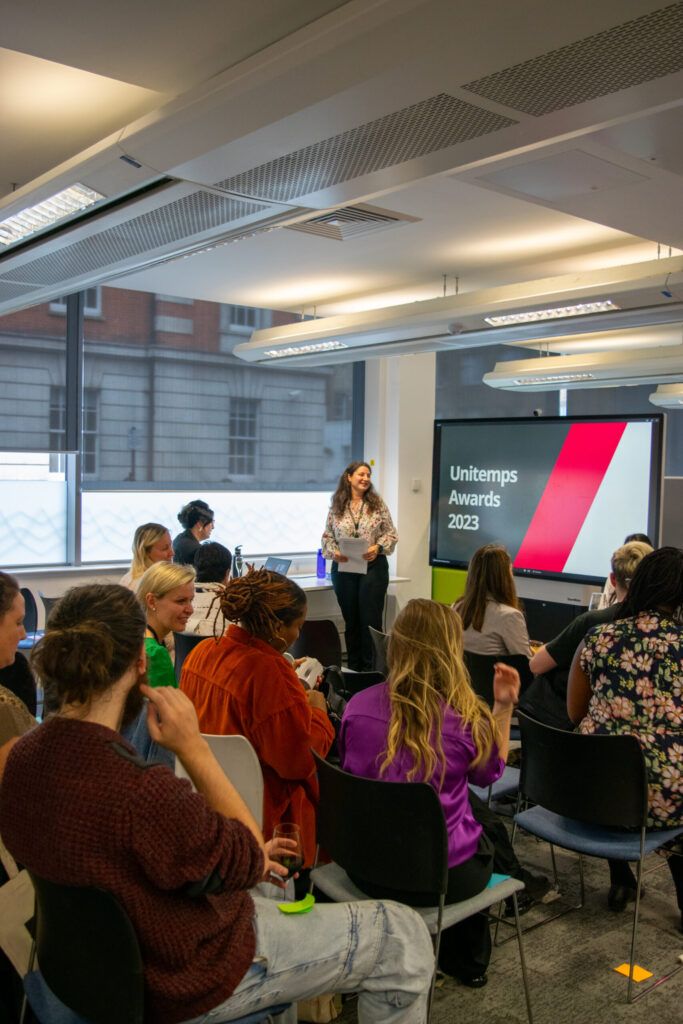 Last updated on 18 September 2023